After Morna staff and students used a mixture of home packed lunches, a catering service and lunch from a restaurant next door, Morna decided to take the next step and create their own kitchen and cafeteria.
Preparing and serving 500+ children and staff lunch brings with it considerable logistical challenges. Together we decided that fingerprint identification was the best way to go – as the younger students would likely either lose or get distracted by bracelets and keyrings.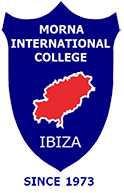 The project was considerable; they wanted students to be able to build their own lunches —or parents to do it for them— either from home or on the school premises. They were also worried that if students brought with them money to buy their lunch, there was a risk that they would lose it and be left without lunch.
Our solution was big-screen interactive kiosks, where students of all ages could build their own lunch. We also launched a website for parents, where they could pre-order lunch for their children, limit available ingredients – and of course top-up their family account via credit card.
Kiosks

The children place their orders on the big-screen kiosk using the various lunch builders – hamburger, salad, pasta, sandwich or omelette. They can also order drinks —juice, smoothie or a hot drink— and a dessert.
Kitchen stations
As soon as an order is placed, it pops up on the kitchen terminals. The kitchen staff prepares the food, clicks on the order so it disappears off screen, and a label is printed – which they stick on the lunch item. The lunch is then stored until the scheduled pickup time.
Cafeteria
This is where the students come to pick up their lunch. They scan their finger, and their profile and pending orders pop up. The staff can clearly see if the lunch has been prepared or not – and if it's prepared, they serve the child their lunch and mark the order as 'completed' on the touchscreen.
In the cafeteria, staff can take immediate orders from students, parents and staff, such as for example croissants, cookies, coffee, fruit and much more.
Buffet
Morna set up a dining room, where they serve a different buffet menu every day. Students come, scan their finger and can start serving themselves.
Parent portal
In the parent portal, parents can place pre-orders for their children. Another popular use of the parent portal is for children to order their lunch in the car on the way to school. On top of pre-ordering, parents can top-up their family account by credit card – and of course also see their family's full history in the system. For complete control, they also have the possibility to block food items for their children. An example would be to block out sugary items if their child has diabetes. Here, they also set any allergy their child might have, ensuring that their child won't be able to order something that is harmful to them.
Administration
In the administration panel, staff have access to various reports for the activity in the software. They can see detailed financial reports and ordering trends – and also which individual food items are the most (and least) popular. This helps the kitchen staff plan their purchases and reduces waste.